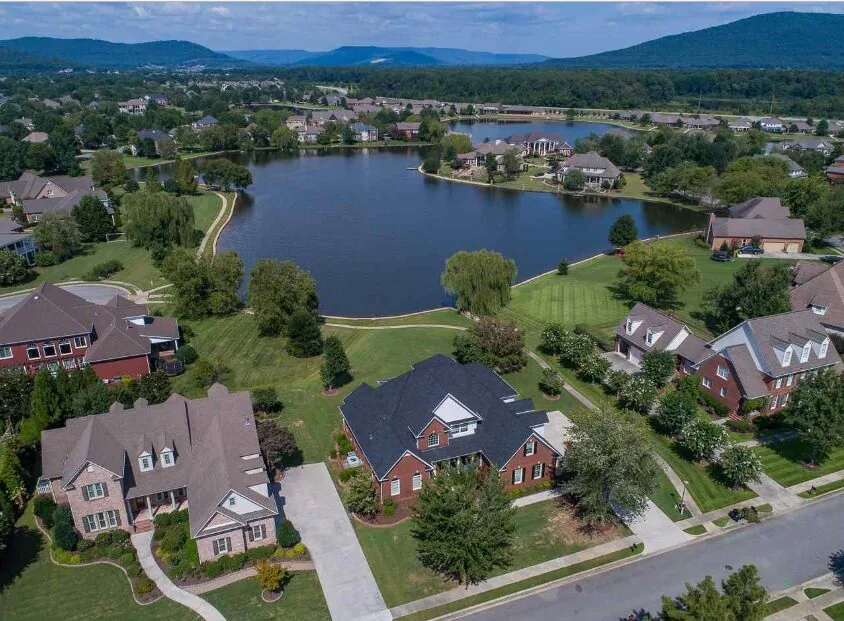 Huntsville City Schools – https://www.huntsvillecityschools.org/our-schools
Hampton Cove is another hidden gem of this area. Located close to both Huntsville and Guntersville. The location provides scenic views of the mountains with lush greenery all year long; This is definitely another desirable community for those born and raised in the Huntsville Metro Area but also for the ones relocating here. As a long-established community, Hampton Cove [also known as Owens Cross Roads/ Big cove Area,] is surrounded by gorgeous landscapes that provide great outdoors and picture-perfect spots to enjoy. Hiking and walking, biking and fishing or just golfing are just to name a few of the things you will love to do here.
This community offers residents access to wonderful schools as well as plenty of shopping/ dining options along scenic roads lined with beautiful homes that are perfect for relaxing or entertaining friends at your backyard barbecue!
If you're looking for a place where the weather is always warm and inviting, with plenty of space to build your dream home in Madison County, Alabama – this might be it. The new developments are still ongoing bringing more opportunities for families who want their own piece of paradise! You'll see everything from townhomes to single-family homes around 2000 sq ft; larger lots with homes that will wow you with their architecture andmodern designs, and if luxury isn't enough for you, there's also estate properties available; they make it one of a kind just like everything else about Hampton Cove.  As you can see,  It will be a great time to build, or buy a preexisting real estate property as your dream home, here!
For the lovers of nature and well-established neighborhoods where you're sure to enjoy peaceful living alongside lush trees all year round- it doesn't get much better than this crazy awesome place called Hampton Cove. Residents are very friendly, they welcome newcomers and their pride in home ownership can easily attract out of town buyers that fall in love with what this community has to offer, the scenic roads and streets and fabulous locationmakes it easy to get outside when you want some fresh air no matter what season. 
Hampton Cove/Owens Cross Roads has plenty of places to explore for eating, playing, entertaining, shopping and dining. The expansion and growth of the Metropolitan area of Huntsville has taken this beautiful community to be top 3 best places to check out when visiting or relocating to North Alabama.
---
01

What we love most about

Hampton Cove / Owens Cross Roads
The Waterfall

Green Mountain

Countless family hiking trails

Parks and playgrounds

The Flint River

The Hays Nature Preserve

The Hampton House

Hampton Cove Equestrian Center

Robert Trent Jones Golf Trails

Cove Park

Goldsmith-Schiffman Wildlife Sanctuary
As part of Huntsville City schools, you will be able to find all the information on the local schools and the ranking of each of them.  This Owens Cross Roads Gem counts with great schools and as you can see plenty of amenities that make it the place to live in!
Favorite Restaurants to enjoy:
Buenavista Mexican Cantina

Hildegard's German Cuisine

Yoshi Sushi Fusion

Carson's Grill

Big Cove BB-Q. " BBQ Platters to go!

Mandarin House

Big Cove BB-Q. " BBQ Platters to go!

Mandarin House

Another Broken Egg Café

Grandmothers House

Tortora's